HOW LONG DOES IT LAST?

It has been more than 10 years since the flood and fire occurred in 1997. It has been more than 2 years since Hurricane Katrina hit the Gulf. Life goes on, but sometimes it is true that you really can't go home again. At least not to things the way they used to be.

The dike project in the Red River Valley of MN and ND is still not complete. Houses have been razed, and others have been remodeled. Families have split along with the walls that once housed them. The plus side is that there are new businesses that have replaced some of the ones that disappeared. New people have come in, although the population is still not where it was BF (Before Flood).

In New Orleans, where we have a representative, many people are still living in houses that have no water or utilities. Homeowners are allowing some people to live in these homes rent free. Why? To keep the properties from being looted.

Will things ever be "normal" again? That is an unknown. Only time will tell. Meanwhile, remember these people in both your prayers--and in your giving. Prayer is only truly effective when we apply feet to it.

The following articles were first posted here soon after Katrina hit, but let them serve as a reminder of our daily blessings.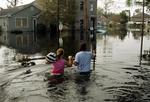 URGENT NEED! HURRICANE KATRINA AID
The Flood of the Millennium

Click on cover to order. All author royalties go to Mission Socorro
GIVE THE GIFT OF HOPE!
In 1997, the entire population of Grand Forks, ND and East Grand Forks, MN were evacuated in the throes of a flood. People all over the country watched in horror as the dikes gave way, making it even worse. Then, with the streets completely filled with water, many of the historic buildings were suddenly in flames. Ironically, there was no way to access the water from the hydrants, so the Coast Guard was brought in with helicopters to suck the water up from the streets and spray it onto the burning buildings. It was six weeks (and in some areas of town longer) before people could return to the cities to see if they even had a house remaining. Then began the long job of cleaning things out. Berms were filled with 6-foot high piles of rubbish.
As Janet and Ivan Smith helped with the evacuees at the Grand Forks Air Force Base, Janet kept notes of the people she dealt with. When they were living in a small town about 30 miles from Grand Forks for the six weeks until they could return, she wrote a book. This book sold hundreds of copies as "the most self-published book ever," Janet says. "When somebody sent me an order, I would go over to Kinko's and print the copies off and mail them off."
In 2004, iUniverse asked Janet to publish the book. It is now available from Amazon.com, many other online bookstores, or at your local bookstores. It offers not only an account of the events of the flood, but gives a great deal of hope by showing the strength of the people who lived through it. You can order it by clicking on the cover above. If you know someone who has been through the horrors of any natural disaster, a copy of The Flood of the Millennium: The Real Heroes, the Survivors could be the greatest gift you can give them. By sharing this book, you will be sharing the gift of hope.
Now we have the same thing happening in the Gulf Coast. Janet and Ivan Smith's (Mission Socorro's founders) son was in both natural disasters. He got out just before the roads were closed. As he sat in a hotel room in a foreign state, where he knew nobody but the couple who had so kindly taken him with them, they watched the scenes unfold in New Orleans. Once again, he watched the flooding, then the levees give way, and finally the fires erupt. It was the last straw. He said he couldn't watch it any longer. It was just a bit too much déjà vu.
Perhaps Janet and Ivan's other son, Wilbert, has the right idea. "I think I really like the desert!" (He lives in Las Vegas!)
BUT THEY'RE ALL SO SMALL...
A heavy set black woman, at a church in a small town in Alabama, was looking through the tables laden with all sorts of clothing, but none of them were large sizes. Nearly in tears, she turned and walked away. She had not gotten any assistance yet from anyone, and she was clad only in a sheet, which she had tied at the waist with a piece of rope.
A couple who had gotten some help from Mission Socorro were standing nearby and they watched her as she left. They went over to her and offered to go to Wal Mart in the next town over and buy her something to wear. She grinned, got in their van with them and off they went.

After a few minutes in the fitting room, she came out in a nice new pants suit. She was grinning from ear to ear. Showing that you can keep some people down, but some people can rise above anything--even the water from a flood--she remarked, "I'm so glad to have something else to wear. I was afraid somebody might think I was a member of the KuKluxKlan!"
MISSION ACCOMPLISHED!
After surviving the Grand Forks, ND flood of 1997, we had workers who relocated in New Orleans. Now, just eight years later, they are reliving the horror of their experience. However, it is said that experience is the best teacher. They are proving that to be true by helping others who have evacuated to northern Alabama. Mission Socorro is making every attempt to raise money that will go directly to the evacuees who are in that area, many of them with no idea where they should head or what they will do.

Your help is URGENTLY NEEDED! All funds will go directly to the evacuees there, with nothing held back for overhead or salaries. All of our workers are, and always have been, dedicated volunteers who have had other incomes. The same is true now. All gifts are 100% tax-deductible and will be issued a receipt accordingly.

If you can help, whether it is with $1.00, $2.00, $10.00 or more, it is the people of America who care for their neighbors who still make this the greatest country in the world.

On behalf of all the victims, thank you.
WHEN YOU'RE DESPERATE, CALL (701) 775-HELP

The phone HELP Line rang this morning, Wednesday, September 7, 2005. It was a woman in Iowa. She and her husband had lived in Grand Forks, ND a couple of years ago, and they remembered hearing about the HELP line. They had fled New Orleans in the wake of Hurricane Katrina. Her husband is epileptic. He had run out of his medications. They had gone to a pharmacy in Iowa to try to get his prescription refilled after the man had suffered three seizures yesterday. The pharmacist said he could not fill the prescription unless he got a doctor's okay, and the doctor they visited said he either had to do some rather extensive tests or access his medical records from New Orleans before he could write out a new prescription.


When they called Mission Socorro's HELP Line, we asked him if he had been on the same medication when he was in Grand Forks. He said he was. We then asked him which pharmacy he had dealt with. He told us. We got a phone number where we could call them back, then we contacted the pharmacist here. The Grand Forks pharmacist called the pharmacist in Iowa, and in less than ten minutes we had a call back from the local pharmacist to tell them they could go pick up the pills.

MISSION ACCOMPLISHED!